ASRock Z68 Extreme4 Gen3 Review
Manufacturer:
ASRock
UK price (as reviewed):
£154.98 (inc VAT)
US price (as reviewed):
$189.99 (ex tax)
Preferred Partner Price:
£154.42 (inc VAT)
It may sound unkind, but it isn't inaccurate to describe ASRock as the perennial also-ran of the motherboard market. It's been around for a long time, but we rarely see an ASRock product that's makes us sit up and take notice. Sure, they usually offer good value, but they often also fail to stand out.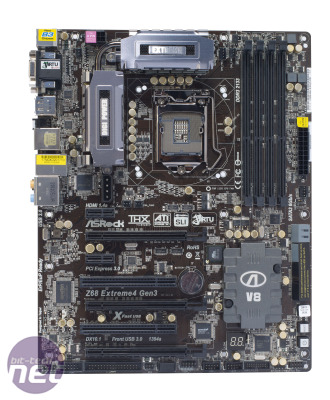 Click to enlarge
This is particularly true when it comes to the looks of ASRock boards, but ASRock has really gone to town on the awesome-looking Z68 Extreme4 Gen3. Gone is the dowdy blue, white and grey colour scheme of yesteryear (although it's still used on the company's cheaper boards) and in its place is a sleek, all-black arrangement. Meanwhile, the contrasting sparkly gold capacitors might be unlikely to offer anything extra in terms of longevity or performance, but they certainly look good.
The only problem with the Extreme4's appearance is that it throws the blocky, slightly ham-fisted styling of the heatsinks that cool the VRMs and the Southbridge into sharp relief. They aren't offensively ugly, of course, but they lack the elegance of the cooling setups we've seen on other manufacturers' boards.
But that's enough on the looks. The headline technical feature of the Extreme4 is the fact that it's the first motherboard we've tested that supports the new PCI-E 3.0 standard, as denoted by the Gen3 suffix in its name. PCI-E 3.0 doubles the effective bandwidth per lane, giving a full 16x slot 1GB/sec of bandwidth. This sounds exciting but it's sobering to realise that, despite the board supporting it, you won't be able to make use of the PCI-E 3.0 interface on this board until Intel's Ivy Bridge processors and compatible GPUs arrive.
As a result, you won't see any performance benefit from investing in PCI-E 3.0 right now, although it's comforting to know that you have support for the standard should you need it. The Extreme4 also has a number of other enthusiast features, such as power and reset switches, as well as a POST code readout along the bottom of the board. There's also a CMOS reset switch on the rear I/O panel, which is a more convenient location than the PCB.
Click to enlarge
Interestingly, the Extreme4 is listed by ASRock as being 3-way CrossFireX-compatible (it's also SLI-compatible, but only with two cards), which is unusual for an LGA1155 board, due to the limited number of PCI-E lanes available from the processor. ASRock has resolved this problem by adding a PLX PEX8608 chip, which effectively splits a single PCI-E 2.0 lane between the two 1x PCI-E slots, the PCI-E to PCI bridge and the Gigabit LAN port. This frees up enough PCI-E lanes to allow the third 16x PCI-E slot to run four PCI-E 2.0 lanes, which is enough for 3-way CrossFireX certification, despite the comparatively limited bandwidth.
Specifications
Chipset Intel Z68

CPU support LGA1155 Core i3, Core i5 and Core i7

Memory support 4 slots: max 32GB DDR3 (2,133MHz)

Expansion slots Two 16x PCI-E 3.0 slots, one 16x PCI-E 2.0 slot (one 16x, two 8x or two 8x and one 4x), two PCI, two 2x PCI-E

Sound Intel HD Audio via Realtek ALC892

Networking Broadcom BCM57781 Gigabit Ethernet

Overclocking: HTT frequency 95-110MHz, CPU multiplier: 16-60, max voltages, CPU 1.7V, VTT 1.87V, RAM 1.8V, PLL 2.34V, PCH 1.64V, VCCSA 1.2V

Ports 4 x SATA 6Gbps, 4 x SATA 3Gbps, eSATA 6Gbps, PS/2, 10 x USB 2, 4 x USB 3, 2 x FireWire, LAN, audio out, line in, mic, optical S/PDIF out, DVI, D-Sub, HDMI, DisplayPort

Dimensions (mm) 305 x 244 (ATX)
source: http://www.bit-tech.net/hardware/motherboards/2011/09/09/asrock-z68-extreme4-gen3-review/1